Whether you use propane to heat your entire home or as an energy source for your indoor or outdoor appliances, you can count on Rick Wenzel Oil to safely deliver your fuel on schedule. Propane customers in the Greater Manchester, NH, area can count on us for prompt delivery, expert equipment installation, and reliable system maintenance.
Why Choose Propane?
Propane Is Safe
Thanks to industry safety standards and strict regulations upheld by the National Fire Protection Association (NFPA), propane is considered one of the safest fuels available.
Propane Is Versatile
Fuel nearly every aspect of day-to-day life with propane. Propane customers rely on this convenient source to heat their homes and power a range of appliances like water heaters, dryers, stoves, grills, and more.
Propane Is Clean
Propane is a non-toxic fuel option that produces minimal emissions, making it an environmentally friendly fuel source.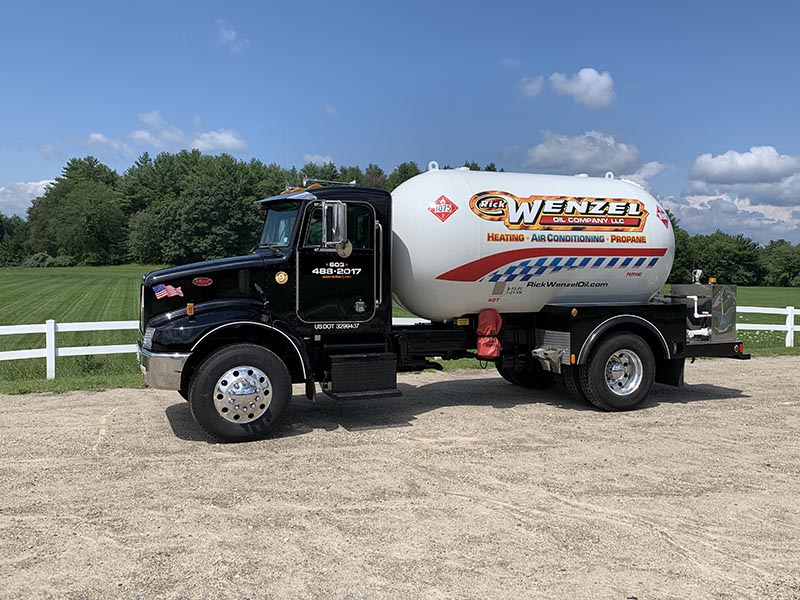 Reliable Propane Delivery
Propane delivery customers receive the same level of service that our heating oil customers know and love. You can count on our service team to deliver your propane fuel in a timely manner. When it is time for another fill-up, simply give us a call to easily schedule your next delivery. Propane customers can also sign up for automatic delivery to take the guesswork out of the equation, and any need to call about a delivery. When you leave your tank levels to the experts, you can trust that your propane supply is in good hands.
Contact us to learn more about our automatic delivery option and enroll today!
Professional Propane Installation and Maintenance
Here at Rick Wenzel Oil, we are no strangers to servicing propane heating equipment. Our certified technicians are prepared with the knowledge and training to diagnose issues, repair malfunctions, and even help you choose a new propane-fired heating system. When you work with the team at Rick Wenzel Oil, our staff will take the steps to help you select the right propane equipment for your unique household needs and budget. Once chosen, we will properly size and install your system to your complete satisfaction. Is it time for your annual system tune-up? We can do that too!